You are here
Jacqueline Glomski
Primary tabs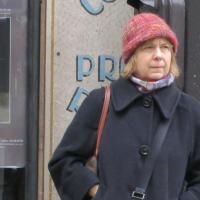 Biography:
Dr Jacqueline Glomski is an Honorary Senior Research Fellow with CELL.
Her present research is focused on theories of book collecting and library formation in the seventeenth century. A list of her publications is available on ORCID.
Most recently, Dr Glomski has co-directed, with Dr Robyn Adams, the CELL project Seventeenth-Century Libraries: Problems and Perspectives, for which the initial symposium was held at UCL in June 2019 and the collaborative volume published in June 2023 with Brill (https://brill.com/edcollbook/title/57427).
Dr Glomski has also been awarded, together with Prof. Gesine Manuwald (UCL Dept of Greek and Latin), an AHRC Research Networking Grant (Jun 2019 – Feb 2022) for Baroque Latinity, a project intended to raise awareness of writing in Latin during the seventeenth century. The resulting book from the project, Baroque Latinity:
Studies in the Neo-Latin Literature of the European Baroque, is being published with Bloomsbury Academic (https://www.bloomsbury.com/uk/baroque-latinity-9781350323445).
Dr Glomski holds a PhD from the University of Chicago (Slavonic Languages –Renaissance Studies), an MA from the University of Michigan (Comparative Literature – Latin/Spanish), and an MSc from the Columbia University School of Library Service (Rare Books – Academic Librarianship). Her previous posts involved teaching Latin in the History Department at King's College London and serving on the library staff of the Warburg Institute, University of London.
Dr Glomski is a fellow of the Royal Historical Society. She has also held the post of Vice-President of the Society for Neo-Latin Studies (UK and Ireland). From 2012 to 2016 she directed the research group Seventeenth-Century Fiction: Text and Transmission, which was supported by the British Academy and which resulted in the publication of Seventeenth-Century Fiction: Text and Transmission (Oxford, 2016). From 1998 to 2003, she served as the book reviews editor for The Library, the journal of the Bibliographical Society (London).
Dr Glomski has been the co-editor of and contributor to Acta Conventus Neo-Latini Monasteriensis: Proceedings of the Fifteenth International Congress of Neo-Latin Studies (Leiden, 2015). She is also the author of Patronage and Humanist Literature in the Age of the Jagiellons (Toronto, 2007). Her other numerous book chapters and articles concern both Neo-Latin literature and the history of the book.