You are here
Gerard Kilroy
Primary tabs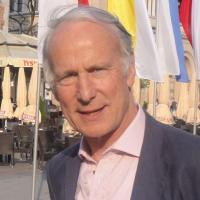 Biography:
Professor Gerard Kilroy is an Honorary Senior Research Fellow with CELL. He is also Professor at the Jesuit University Ignatianum in Krakow, and Senior Research Fellow at Campion Hall, Oxford.
You can contact Prof Kilroy on g.kilroy@ucl.ac.uk
Prof Kilroy read Classical Mods and English Literature at Magdalen College, Oxford, and took his Ph.D. at Lancaster University. In 2016, he was appointed Professor at the Academy Ignatianum in Krakow where, as Visiting Professor, he gave ten lectures on 'Shakespeare in an Age of Faith'. He was a Visiting Professor for three years at Masaryk University, Brno. He has been principal consultant to a group of scholars at the Tischner and Jagiellonian Universities, Krakow, working on 'Subversive publication in Early Modern England and Poland' and on 'Civic Education in Jesuit School Theatres of the Polish-Lithuanian Commonwealth'. He has had Fellowships at the Folger Shakespeare Library, where he has done much of his research, at St Catherine's College, Oxford, and Marsh's Library, Dublin, and a Scholarship at St John's College, Oxford. He was a Grocers' Company Scholar from 2001–2014. His main research interests are in the transmission and circulation of manuscripts, the survival of religious ideas in the works of Shakespeare, and in the central role of an oral culture of sermons and disputations in early modern England. He founded the Café Philo in Bath in 1997, which now takes place in the Bath Royal Scientific and Literary Institute.
Monographs
Edmund Campion: A Scholarly Life (Ashgate, 2015; 2nd edn. Routledge, 2016).
The Epigrams of Sir John Harington, ed. (Burlington VT: Ashgate, 2009).
Edmund Campion: Memory and Transcription (Burlington VT: Ashgate, 2005).
Evelyn Waugh, Edmund Campion, ed. with T. McCoog, S.J. (Oxford: University Press, forthcoming)
Shared authorship
' "Negative Capability", Keats informing the existince of Shakespeare' (Krakow: Jagiellonian University Press, 2020). 
' "To wyn yow to heaven": Edmund Campion's winning words', in  Jesuit Intellectual and Physical Exchange between England and Mainland Europe, c. 1580–1789: "The World is Our House"?, eds James E. Kelly and Hannah Thomas (Brill, 2019). 
'Sacred Speech: Saying the Word', in Moral Upbringing through the Arts and Literature, ed. Paweł Kaźmierczak and Jolanta Rzegocka (Newcastle: Cambridge Scholars Publishing, 2018).
'Shakespeare and the Archaeology of Culture', in Colossus: How Shakespeare still bestrides the cultural and literary world, ed. Sylwia J. Wojciechowska and Aeddan Shaw (Krakow: Ignatianum, 2018).
'Solidarity and the Dignity of the Human Person', in In Freedom, In Solidarity: Civil Resistance in Poland and the Philippines, 1980–1990 (Krakow–Manila: Kultura i Politika, 2016).
'"To wyn yow to heaven": Edmund Campion's winning words', in Jesuit Intellectual and Physical Exchange: The World is Our House?, ed. by James E. Kelly and Hannah Thomas (forthcoming, Brill, 2017).
'Edmund Campion's Rationes Decem: A Cosmopolitan Book', in Underground and Across the Channel, ed. by Clarinda Calma (Brill, 2016).
'A Tangled Chronicle: The Struggle over the Memory of Edmund Campion', in Arts of Remembrance in Early Modern England, ed. by Andrew Gordon and Thomas Rist (Ashgate, 2013).
'Edmund Campion in the shadow of Paul's Cross: the culture of disputation', in Paul's Cross and the Culture of Persuasion in England, 1520-1640, (Brill, 2014).
'Sir John Harington's Protesting Catholic Gifts', in The Struggle for the Succession in Late Elizabethan England: Politics, Polemics and Cultural Representations, ed. by Jean-Christophe Mayer (Montpellier, 2004).
'Requiem for a Prince: Rites of Memory in Hamlet', in Theatre and Religion: Lancastrian Shakespeare, ed. by R. Dutton, A. Findlay and R. Wilson (Manchester: University Press, 2003).
Recent Articles
'A household under fire: two different books, Edmund Campion and Brideshead Revisited intertwined in language, theology and publishing history', The Tablet (8 June 2019) 12–13. 
Evelyn Waugh's Edmund Campion: "Walking at our elbow", Thinking Faith, 28 November 2017.
Shakespeare: "The Undiscovered Country", Thinking Faith, 21 April 2016.
"Faith: the substance of things to be hoped for": Vespers at Hampton Court Palace, Thinking Faith, 17th February 2016.
'Herbert's "Elegy of Fortinbras' and Political Power in Hamlet in Perspektywy Kultury, 14 (1/2016), 7–15.
'"Paths Coincident": The Parallel Lives of Dr Nicholas Sander and Edmund Campion, S.J.', in Journal of Jesuit Studies 1 (2014), 520–41.
'The Queen's visit to Oxford in 1566: A Fresh Look at Neglected Manuscript Sources', Recusant History, 31.3 (2013).
'Edmundus Campianus Oxoniensis', Thinking Faith, 30 November 2011.
'Advertising the Reader: Sir John Harington's "directions in the margent"', English Literary Renaissance, vol.41.1 (February, 2011), (awarded ELR prize).
'Sir Thomas Tresham: his Emblem', in Emblematica, 17, July 2009.
'Scribal Coincidences: Campion, Byrd, Harington and the Sidney Circle', in Sidney Journal, ed. Mary Ellen Lamb, 22, Spring, 2004.
'Within these Walls: 'The Secret World of Sir Thomas Tresham', in L'Interiorité au Temps de la Renaissance, ed. by M. T. Jones-Davies, Actes de colloque de Paris, 2003-2004 (Paris: Champion, 2005).
'Eternal Glory: Campion's Virgilian Epic', 'Commentary',TLS, 8 March 2002, 13-15.
Earlier articles
'The Dido Episode and the Sixty-fourth Poem of Catullus', Symbolae Osloenses, 44 (1969), 48-60.
'Ironic Balance in Persuasion', Downside Review, vol. 325 (1978), 305-13.
'Mansfield Park in Two Volumes', English, vol. 34 (1985), 115-29. 
'Palladian Symmetry in Sense and Sensibility', Transactions (Midlands Jane Austen Society, 1993).