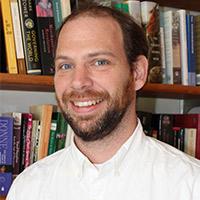 CELL is delighted to welcome Christopher Warren, Associate Professor of English at Carnegie Mellon University, as a visiting research fellow here at UCL in May and June 2017. Chris's visit has been generously funded by a UCL Big Data Institute visitor grant.
Chris' research interests include digital humanities, law and literature, political theory, early modern literature, global studies, and the history of political thought. His first book, Literature and the Law of Nations, 1580-1680, published by Oxford University Press in 2015, is a literary history of international law in the age of Shakespeare, Milton, and Hobbes. It was awarded the 2016 Roland H. Bainton Prize for Literature.
The digital humanities project Six Degrees of Francis Bacon, which Chris founded with Daniel Shore, aims to be the broadest, most accessible source of who knew whom in early modern Britain. Those who create accounts can download rich datasets and add names and relationships, permitting Six Degrees to grow even more useful over time.
Whilst here Chris will be taking part in an invite-only symposium on unique identifiers for historical persons. He is also speaking at an IHR Digital History seminar on 23rd May, What do we know about the ODNB? Elite Lives at Scale
We look forward to working with you Chris!